Stereo garso sistema Taga Harmony PLatinum F-100 V.3 su stiprintuvu Onkyo Tx-8270
Sena kaina: 1,598.00 €

1,359.00 €

Born in Europe – Crafted for the World

CABINETS
TLIE-I – The 2nd generation of Taga Low Interference Enclosures is made of high-quality, high-density 15mm thick MDF boards with inside braces (floorstanding models) to increase stiffness and limit any unwanted resonances. The thicker internal bracing and additional transverse strengthening bars (2 in Platinum F-120 v.3, 1 in Platinum F-100 v.3) help to further reduce vibrations.
The shapes are perfectly crafted not only to look wonderful and modern but mainly to lower any unwanted vibrations, diffractions or turbulences, which can affect the sound performance.

New high-end enclosure damping material is used to better break up the standing waves, lower resonances and limit distortions what improves the smoothness and characteristics of sound in all ranges.
All models are equipped with magnetically mountable grills to keep more sleek appearance of speakers' front panel and new drivers as well as to lower distortions when the grill is taken off.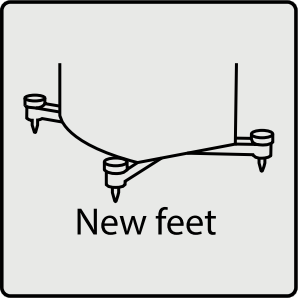 All floorstanding models sit on die-cast aluminum feet and spikes.
The feet are exceptionally rigid and thick to provide almost perfect isolation of speakers from the floor and increasing the transparency of sound and to produce better definition and control for the bass.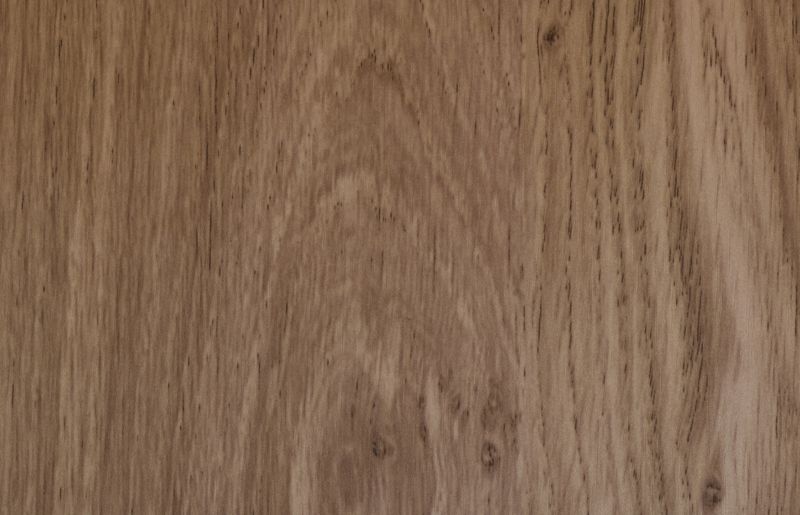 Carefully selected high quality vinyl finishes are very durable, elegant, imitate natural wood texture and are very pleasant in touch. The vinyl finishes are neatly applied to cabinets using precise machinery to provide the best looks.
CROSSOVERS / INTERNAL WIRING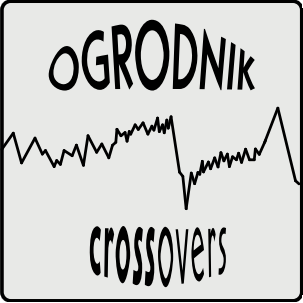 Ogrodnik crossovers - Platinum v.3 series' performance is controlled by Ogrodnik crossover sections. They are specially and personally designed and engineered by well recognized Polish loudspeaker designer and audio press reviewer Mr. Arek Ogrodnik. We use minimal number of high quality and carefully selected components in the high-pass and low-pass crossover sections to ensure the best neutrality, to handle massive amounts of power and to provide the greatest precision.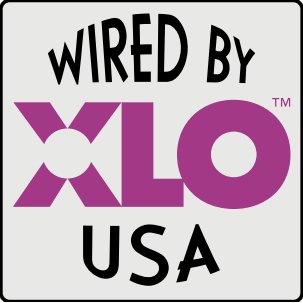 Internal wiring custom designed and built for the Platinum v.3 series by XLO U.S.A. – one of the best audio cables manufacturer in the World. 14AWG multi-stranded Oxygen Free Copper XLO internal wiring is used for connecting all drivers with crossovers and to ensure that the incoming signal will not lose the most important details on the path from the amplifier to the drivers.
TWEETER

1. T-YOKE / Pole piece
2. Copper ring
3. Oversized ferrite magnet
4. Top plate
5. TPTTD-I Taga Pure Titanium Tweeter Dome and CCAW voice coil with silver wiring
6. TWG-I faceplate - basis
7. Metal grill
8. TWG-I faceplate - front panel
TPTTD-I – the 2nd generation Taga Pure Titanium Tweeter Dome utilizes a new differently shaped and lighter titanium dome as well as an addition of a copper ring on the T-yoke to increase and widen SPL and at the same time lower distortions and to provide faster and more accurate movement of the dome reflecting in more detailed and airy sound.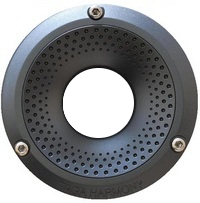 TWG-I

- Taga WaveGuide tweeter faceplate

.

A specialized horn-like design of the tweeter's faceplate utilizing concave diffusers as well as dome metal grill assists with equal and flat dispersion of sound in and off the axis of the driver. In the newest edition the shape and depth have been redesigned to allow better flow of sound stream and even wider dispersion which helps to build a more three-dimensional and natural soundstage. Minimizing the number of components means better structural rigidity, lower distortions and resonances.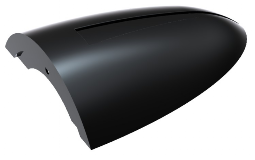 TTP Taga Top Plate (selected models only) reduces standing waves effect and creates three-dimensional performance.


MIDRANGE / MID-WOOFER / WOOFER

1. Additional oversized ferrite magnet [only woofers in F-120 v.3 /F-100 v.3]
2. T-YOKE / Pole piece
3. Oversized ferrite magnet
4. Top plate
5. Aluminum injection-molded chassis with anti-oxidation surface process
6. Spider
7. Flat wire copper voice coil
8. TPACD-I Taga Pure Aluminum Cone and TRCS rubber surround
9. Pure aluminum dust cap
TPACD-I – the 2nd generation Taga Pure Aluminum Cone Drivers utilize rigid aluminum chassis and provide ultra-fast movement for smooth, rich and very natural midrange frequency response as well as deep, precise and detailed bass performance.
- Differently shaped and lighter aluminum cones allow faster, more accurate movement of the cone reflecting in more detailed and airy sound.
- New flat pure aluminum dust cap to increase air flow and smoothen the frequency response.
- Heavy duty and powerful motor structure including oversized magnets: Φ90 in the midrange driver , double Φ110 and Φ100 in F-120 v.3 /F-100 v.3 woofers, Φ120 in the B-40 v.3 mid-woofer (the whole structure is the same as in the flagship Diamond B-60) and totally new flat wire copper voice coils offer higher power handling and longer operation time without increased temperature generating better and more dynamic sound performance.


TRCS - Taga Reversed Cone Surround provides more stable, faster and greater range of cone movement reflecting in higher dynamics and more precise and neutral sound.
Pagrindinės stirpintuvo funkcijos:
•Galia 320
W MAX (4 Ω, 1 kHz), 2x135W RMS
6 Ω
• Interneto radijas
• Onkyo GreenEdge sertifikatas
• apdorojimas
384K/32 Bit Hi-Grade DACs
• 2-zonų grojimas
•
Spotifai, Deezer, tunein, FM/DAB/DAB+ ir kiti strymingo servisai
• Bluetooth Audio, Wi-Fi, AirPlay, tinklo LAN jungtis,
• išėjimas aktyviam žemo dažnio garsiakalbiui
• Daugiafunkciinis, programuojamas distancinis
• Onkyo programelė iOS® ir AndroidTM telefonams ir planšetėms
• jungtys:
Stereo Hi-Fi Amp Gets You Connected
Put the focus on musicality with the TX-8270, a beautifully engineered stereo amp that's ready to play anything you throw at it. Together with line and phono inputs, there's coaxial and optical digital, HDMI®, USB, and dual-band Wi-Fi® to support wireless audio technologies. These include DTS Play-Fi®*, Chromecast built-in*, AirPlay, Spotify®, network-attached audio, and streaming services. Built around a massive transformer, audio-grade capacitors, and discrete non-phase-shift circuitry locked and into a robust chassis, this amp has high-current power to illuminate your favorite music. Enjoy versatility with easy enhancement of everyday TV entertainment, DAB+ and FM/RDS radio, and more. Paired with speakers of appropriate quality, the TX-8270 will bring a smile to your face every time the needle hits wax.

* Firmware update or updates required (TBA).
Driving Big Speakers with Vitality and Dynamism
This amp system generates high current with a massive transformer and audio-grade capacitors. Circuitry features discrete output transistors for low distortion and effortless driving power. High current assures accurate control, restoring energy and vitality to your music. Non-phase-shift circuitry, meanwhile, focuses the audio image and reproduces a wide frequency bandwidth to maximize Hi-Res Audio and vinyl playback.
A Stereo Receiver that Connects Everything
A beautiful stereo receiver crafted for hi-fi enthusiasts, the TX-8270 is also exclusively equipped with connections allowing it to serve as an up-to-date amp for TV entertainment. Joining analog, digital, phono, and USB inputs are HDMI® terminals (connect an Apple TV or similar) together with a Next Generation Network Audio platform. Cast music from familiar apps quickly and easily.
Premium Digital-to-Analog Processing
An AK4438 384 kHz/32-bit digital-to-analog converter from AKM features unique low-distortion technologies ideally suited to DSD 5.6 MHz*1 and PCM signals up to 192 kHz/24-bit*2. Together with unique VLSC™ filtering circuitry, which eliminates ultra-high-frequency pulse noise, playback is crystal clear.

*1 Playback after PCM conversion.
*2 192/24 PCM not supported over wireless LAN or USB.
Music Made Easy with Chromecast built-in*
Stream any music from your smartphone, laptop, or PC to your speakers with ease. Control playback with Chromecast-enabled apps you know and love from your iPhone, iPad, Android™ phone or tablet, Mac® or Windows® laptop, or Chromebook.
Stream Anything with DTS Play-Fi®
DTS Play-Fi* is a wireless protocol that works with any app and smart device. Flick whatever's playing to the receiver, even different sources to different components at the same time.
Dual-band Wi-Fi®, AirPlay, and Spotify® Connect
A selectable 5 GHz Wi-Fi® channel assures stable connectivity in areas with traffic congestion on the 2.4 GHz band. Enjoy smooth streaming over AirPlay, the Spotify Connect app, and other network audio services.
Internet Radio, Streaming Services, FM/RDS, and DAB/DAB+
TIDAL, TuneIn, and Deezer are baked into the GUI, making it easy to select from a massive range of music and radio programs. Radio tuners are also included with 40 station presets. Get instant access to four of your favorite stations via preset buttons on the front panel.
Onkyo Controller for Next Generation Network Audio
Anksčiau peržiūrėtos prekės