Stereo Komplektas Yamaha R-N303 su Kolonėlėmis Yamaha NS-F350
Sena kaina: 1,150.00 €

899.00 €
Stereo Komplektas Yamaha R-N303 su Kolonėlėmis Yamaha NS-F350
Yamaha R-N303D stiprintuvas su įmontuotu media grotuvu 2 x 180W Airplay , Spotify ,DLNA interneto radijas ,Bluetooth, patogi programėle stiprintuvo valdymui , A+B įgarsinimo zonos už priimtiną kainą .
Mėgaukitės šiuolaikiškais muzikos striminimo patogumais ir privalumais

Hi-Fi kokybes visa Jūsų muzika

Make the Yamaha R-N303D Hi-Fi receiver the centerpiece of your audio system, and get streaming music services, music from your smart phone, network audio, and the music you listen to every day — and enjoy it even more, with superior, exceptionally musical sound. If you truly love music, this single device will open up new dimensions of listening enjoyment you never dreamed possible.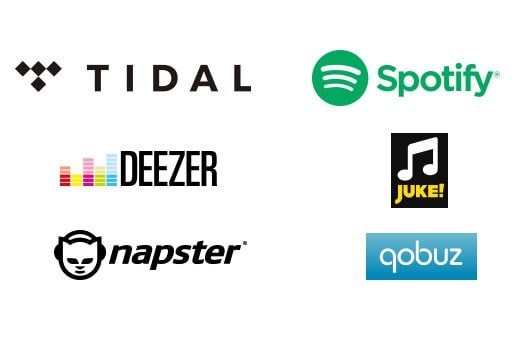 Klausykit pamėgtų ir atraskit naujų muzikos kūrinius
The R-N303D is compatible with a large variety of popular streaming services, including the widespread Spotify, the up-and-coming Tidal and Deezer services, as well as Napster®, Qobuz, Juke and others — letting you enjoy all your favourite artists, discover new ones, and get music content from all over the world.
* Music service availability varies by region.
DAB / DAB+ radijo imtuvas
DAB and DAB+ are Digital Audio Broadcasting formats that offer a large selection of radio stations with high sound quality. Other benefits include automatic tuning to available stations with a list to choose from, and display of information such as station name. You can preset 40 DAB / DAB+ stations.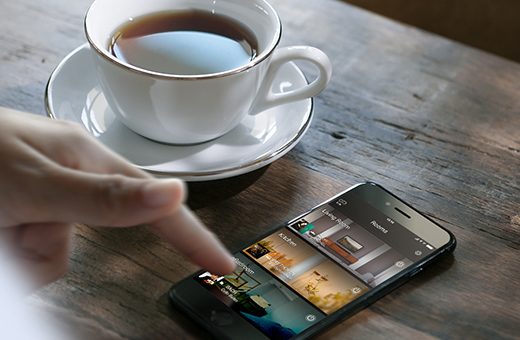 Distancinis valdymas ir telefono ar planšetės su patogia programėle
Control. It's all in the palm of your hands — with the free MusicCast CONTROLLER app. Simply tap and flick on the intuitively designed screen, and easily operate all of your MusicCast devices, as well as the R-N303D.
Subalansuotas ir galingas garsas
Each unit is equipped with a high-quality / high-power amp, featuring a single push-pull and discrete configuration that delivers a maximum output of 140 watts/channel (8Ω). Its low-impedance design minimises the lengths of the audio signal paths, while placing the power supply unit near the amp unit eliminates energy loss, achieves superior drivability for optimum sound reproduction with all kinds of speakers, providing exceptionally dynamic, exciting sound.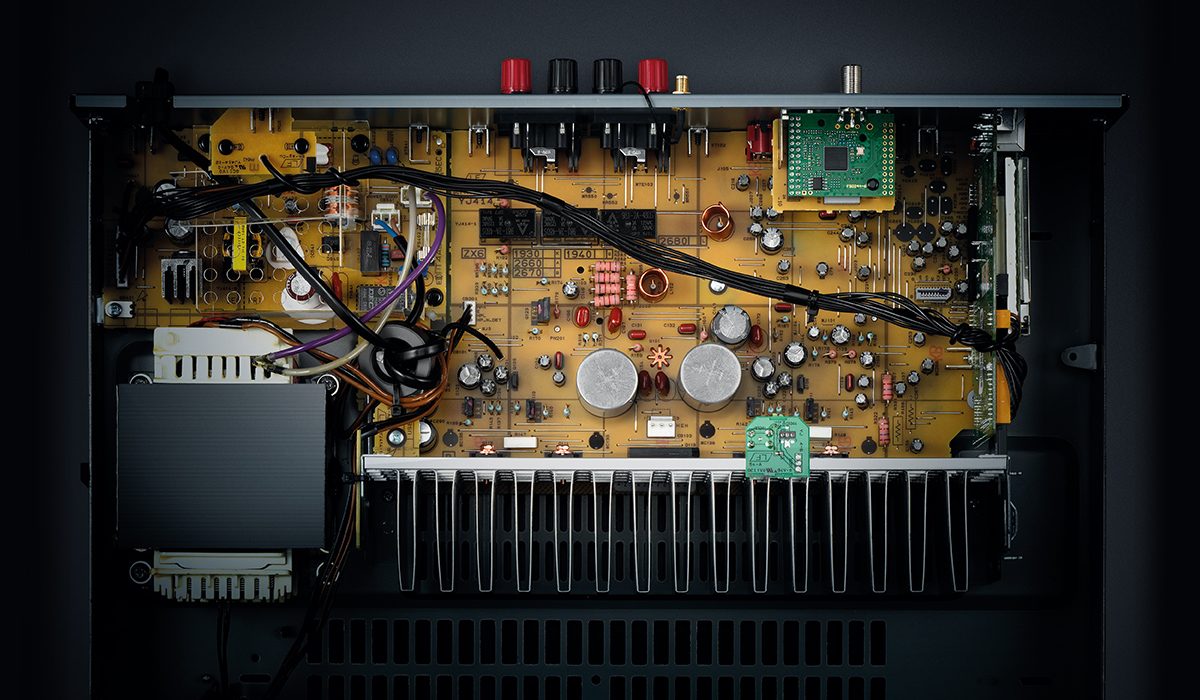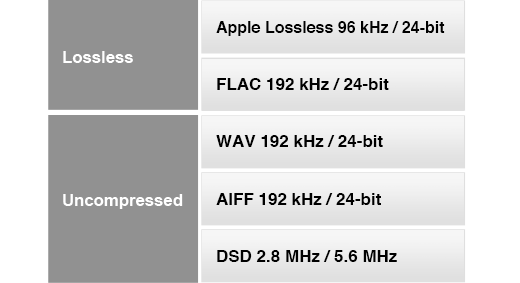 Klausykis high resolution kokybe
The R-N303D supports an extensive variety of high resolution audio formats. Feel the very breath of the vocals, bask in the airy atmosphere of a concert hall — and experience all of the performance as never before.
Muzika aplink tave
MusicCast employs a high performance wireless network to deliver music and audio enjoyment. It can stream digital music content from your smartphone, PC or NAS to other MusicCast devices in your home. It can also share the music from external devices such as a CD player or TV connected to the R-N303D. Audio content from Bluetooth®-connected smartphones or tablets can also be streamed to MusicCast devices in multiple rooms.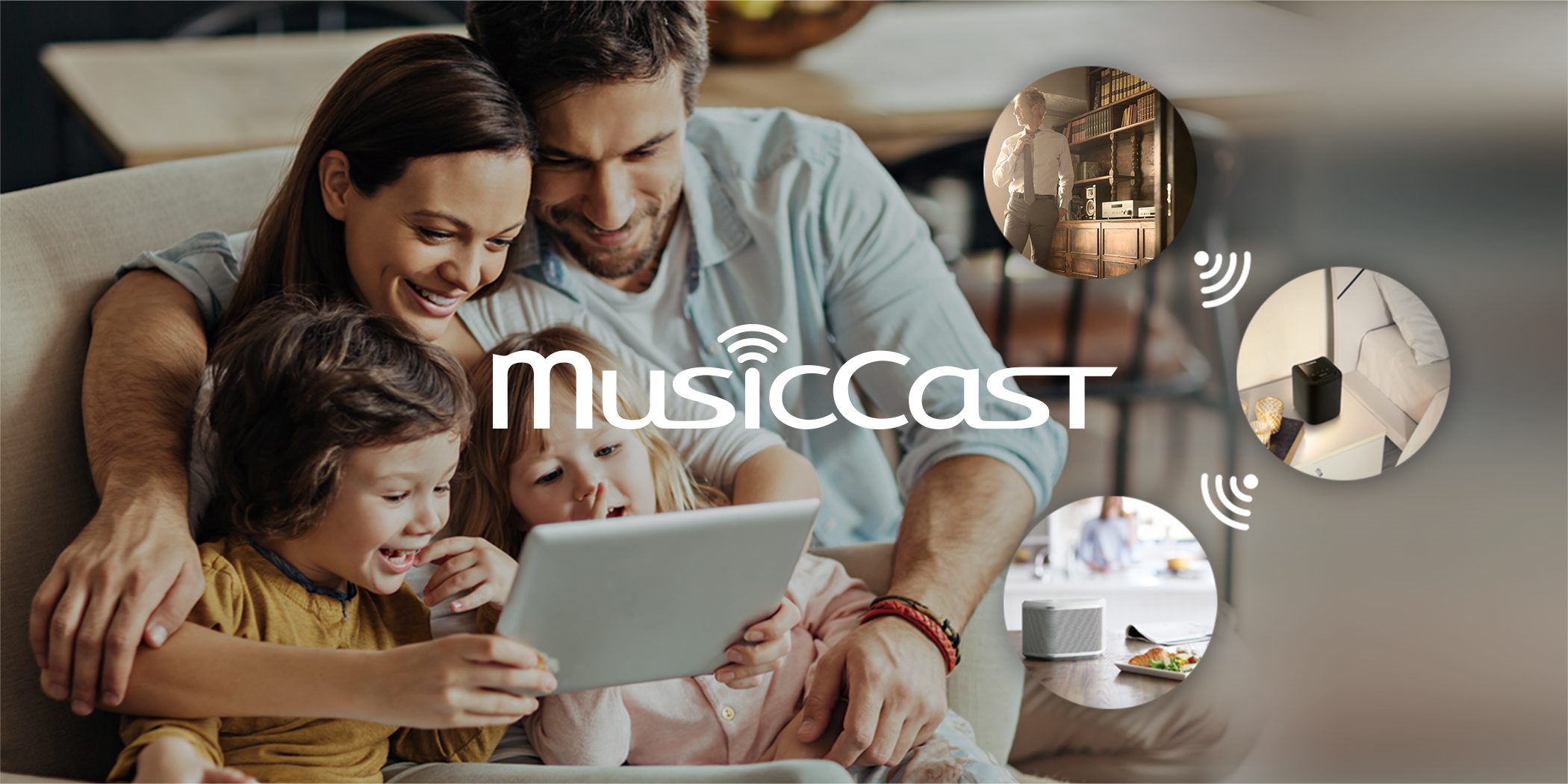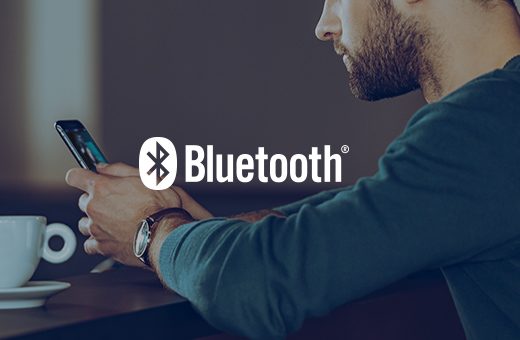 Prisijunk bevielių būdu
The R-N303D is equipped with Bluetooth® functionality to let you enjoy easy wireless music playback from smartphones and other devices.
Hi-Fi garsas iš TV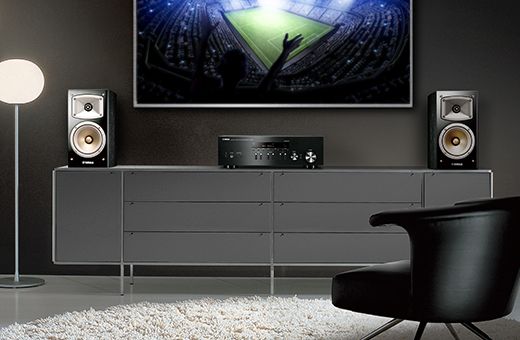 The R-N303D is equipped for digital audio input with both audio and coaxial terminals. The optical is for receiving audio from a TV and the coaxial is for receiving audio from a Blu-ray Disc™ player. The audio stays in the digital domain, giving you pure, pristine, dynamic sound for all your entertainment sources, from sports and other programmes to movies and concerts.
SpecificationsNetwork sectionDLNAFile FormatAirPlayMaximum Power (4 ohms, 1kHz, 0.7% THD, for Europe)Maximum Power(8 ohms, 1 kHz, 10% THD)High Dynamic Power/Channel (8/6/4/2 ohms)Frequency ResponseSignal-to-Noise Ratio (CD)Audio In / OutDigital InputStandby Power ConsumptionDimensions (W x H x D)WeightReceiver / Integrated AmplifierNetwork sectionWi-FiBluetoothMinimum RMS Output PowerEthernetHeadphone Out
R-N303D
Specifications
Network section DLNA Version 1.5
File Format MP3, WMA, MPEG4 AAC, WAV, FLAC, AIFF, ALAC, DSD
AirPlay Yes
Maximum Power (4 ohms, 1kHz, 0.7% THD, for Europe) 115 W + 115 W
Maximum Power(8 ohms, 1 kHz, 10% THD) 140 W + 140 W
High Dynamic Power/Channel (8/6/4/2 ohms) 125 / 150 / 165 / 180 W
Frequency Response 0 ± 0.5 dB / 0 ± 3.0 dB
Signal-to-Noise Ratio (CD) 100 dB (Input shorted, 500 mV)
Audio In / Out 6 / 1
Digital Input Yes (Optical / Coaxial)
Standby Power Consumption 0.1 W (Network standby on / Wi-Fi connection; 1.8 W)
Dimensions (W x H x D) 435 x 141 x 340 mm (with antenna up: 435 x 202 x 340 mm); 17-1/8" x 5-1/2" x 13-3/8" (with antenna up: 17-1/8" x 8" x 13-3/8")
Weight 7.2 kg; 15.9 lbs.
Receiver / Integrated Amplifier
Network section Wi-Fi Yes (with Wireless Direct)
Bluetooth Yes (SBC / AAC)
Minimum RMS Output Power 100 W + 100 W (8 ohms, 40 Hz-20 kHz, 0.2% THD)
Ethernet Yes
Headphone Out Yes
Kolonėlės Yamaha NS-F350
Yamaha NS-F350 grindinės garso kolonėlės 200W



Yamaha's Sound Concept: The Ability to Fully Play All the Latest AV Sources
If the sound quality is not good enough in 2-channel playback, there is no chance of properly reproducing the source in surround sound. This is the idea that led to the development of this floorstanding speaker for a 5-channel system. Every channel has an all-new tweeter and PMD cone woofer combination. Able to handle audio-rich data, it ensures that expansive and seamless theatre sound will fill your room.
Expansive, Glistening Sound. A New 3 cm (1") Aluminium Dome Tweeter that Reproduces 45 kHz (–10 dB) High Frequencies
As a next-generation unit, the NS-F350 employs a new structure that puts an aluminium dome inside the voice coil. The aluminium's Black Anodised processing suppresses the aluminium-specific character of the sound, providing expansive and accurate reproduction of the texture and nuance of the high frequencies. With a new diffuser shape and a new voice coil using CCAW (copper-coated aluminium wire) it achieves 45 kHz (–10 dB) reproduction with extended high frequency range while maintaining the amount of information and energy in the audible band.
Featuring a Unique Waveguide Horn that Controls Directivity
Based on the idea of controlling spatial representation from the speaker, the waveguide horn directs the sound to reflect from walls and other surfaces. Thanks to the directivity of a left-right directional range of 135 degrees and a vertical range of 120 degrees optimised for home theatre use, it precisely recreates the sound field while minimising the impact of the room.
Featuring a PMD Cone. A 13 cm (5") Midrange and 16 cm (6-1/2") Dual Woofers, Supple and Transparent in Tone
The NS-F350's 3-way, 4-speaker configuration utilises a PMD (Polymer-Injected Mica Diaphragm) cone, midrange and woofer, already proven to achieve ideal internal loss and high elasticity characteristics through light weight and high rigidity. Its SN ratio excels in the range of the human voice and vocals, and its low frequency range is supple and transparent in tone.
Rounded Front Baffle with Double Structure
The cabinet features a rounded shape that curves smoothly to both sides. By reducing the number of parallel surfaces it minimises standing waves and unwanted resonance. The front baffle has a double structure with a mirror-like piano finish. With reinforced strength, it produces more natural, extremely transparent tones.
Massive Power for Optimum Sound Performance


NS-F350 Specifications Type 3-way bass-reflex floorstanding speakers Woofers Dual 16cm (6-1/2") cone MidRange Driver 13cm (5") cone Tweeter 3cm (1") aluminium dome
Frequency Response 35 Hz–45 kHz
Nominal Input Power 100 W
Maximum Input Power 200 W
Sensitivity 88 dB/2.83 V/1 m
Crossover Frequencies 1.4 kHz, 3.8 kHz
Impedance 6 ohms
Dimensions (W x H x D) 220 x 1,157 x 339 mm; 8-5/8" x 45-1/2" x 13-3/8"
Weight 25.9 kg; 57.1 lbs./unit
Anksčiau peržiūrėtos prekės